A picture is like a thousand words and the images below should be sufficient for demonstrating the grotesque problems with Christian Nationalism. However, I am going to say a few things anyway. Let us begin.
---
MISSING CONNECTIONS
Before we get into the details of what's wrong with each image above, it is worth noting that they are internally disjoint. "Let's go Brandon" was a chant for a race car driver that became synonymous with telling President Joe Biden to go eff himself. It is just plain stupid. What does the American flag have to do with Jesus? Good question. Thank you for asking. Nothing. Zip. Zilch. Nada. Not even close to not even being a close connection. A Christian who voted for Trump can claim him as POTUS while also claiming Jesus as Lord, but they are not the Reese's peanut butter cup that Christian Nationalists make it out to be. It' s more like oil and water. Correction: more like turd in a punch bowl.
As a veteran who is a Christian, I like the messages in standing for the flag and kneeling for the cross, but I would never ever dream that they are connected in a manner that relates to political action. Separate issues. But but but Jesus said in John 15:13 that "There is no greater love than to lay down one's life for one's friends." True. Military service is one way to risk your life, and one could say that they are doing it for their friends. Jesus clearly did this at the Cross. But this is not political. It doesn't certify Christian Nationalism as being legitimate or right. It's just an effective rallying cry that they use because it stirs up deep emotions.
There are true and/or noble messages in the images above, but they lack coherence. The connections are forced and illegitimate. For the most part, they are unbiblical and antithetical to Christianity's ethos and mission.
THE MAIN PROBLEM
Jesus spent a great deal of time talking about the Kingdom of God and bringing the same to this world. When facing Pilate before He was crucified, He made it clear that His Kingdom was not of this world.
[John 18:36 NLT] 36 Jesus answered, "My Kingdom is not an earthly kingdom. If it were, my followers would fight to keep me from being handed over to the Jewish leaders. But my Kingdom is not of this world."

Blue Letter Bible
Just before He returned to heaven, He passed the baton to the disciples with simplicity. The Great Commission was a cue to go finish the work of developing the Kingdom of God. It doesn't mention political action, nationalism, or coded language for saying F-you to those you do not like.
[Matthew 28:18-20 NLT] 18 Jesus came and told his disciples, "I have been given all authority in heaven and on earth. 19 Therefore, go and make disciples of all the nations, baptizing them in the name of the Father and the Son and the Holy Spirit. 20 Teach these new disciples to obey all the commands I have given you. And be sure of this: I am with you always, even to the end of the age."

Blue Letter Bible
The New Testament is fairly long and contains 27 books with all sorts of history, advice, predictions, etc. The Apostle Paul wrote most of it and never ever suggested political action. If anything, he effectively told Christians to just "suck it up buttercup!" and lay down your rights for the things that matter in the Kingdom of God. Securing your personal rights through political action is NOT one of those kingdom things. Quite the opposite.
Prove me wrong.
LET'S GO BRANDON
On Christmas Eve 2021, a father of four named Jared Schmeck was privileged to be on NASA's Santa Tracker call with President Joe Biden and First Lady Jill Biden. As he ended his chat with POTUS and FLOTUS, he inserted "Let's go Brandon" at the end of his call. In a subsequent interview, he had the unmitigated gall to say, "I strongly believe that standing up is the right thing to do here as long as that message that I'm portraying is glorifying His name."
So … I guess using coded language for #FJB is "glorifying His name?" Ummm … NO! Hard no. My goodness that is stupid. Let's consider what the Bible says about glorifying God.
"Glorify His Name"?
Let's start with the phrase Jared used: glorify his name.
[Psalm 34:3 NIV] 3 Glorify the LORD with me; let us exalt his name together.


[Romans 15:9 NIV] 9 and, moreover, that the Gentiles might glorify God for his mercy. As it is written: "Therefore I will praise you among the Gentiles; I will sing the praises of your name."

Blue Letter Bible
Yeah … nothing there about #FJB.
What about "Glorify God"
The words "glorify" and "god" appear 18 times in 8 verses in the New International Version (NIV). As you might expect, they have nothing to do with political action. Here are four of them.
[John 21:19 NIV] 19 Jesus said this to indicate the kind of death by which Peter would glorify God. Then he said to him, "Follow me!"

[1Peter 2:12 NIV] 12 Live such good lives among the pagans that, though they accuse you of doing wrong, they may see your good deeds and glorify God on the day he visits us.

[Psalm 86:12 NIV] 12 I will praise you, Lord my God, with all my heart; I will glorify your name forever.

[Revelations 16:9 NIV] 9 They were seared by the intense heat and they cursed the name of God, who had control over these plagues, but they refused to repent and glorify him.
Peter's death glorified God. OK. Good deeds while living among the pagans glorifies God, which means you're not involved in a culture war. Just sayin. Praising God brings Him glory. No surprise there. Cursing and thus refusing to repent DOES NOT glorify God. How ironic that cursing is not associated with bringing glory to God. Quite the opposite.
GOD GIVEN RIGHTS?
"It was merely just an innocent jest to also express my God-given right to express my frustrations in a joking manner," Schmeck said. "I love him just like I love any other brother or sister."

from Newsweek article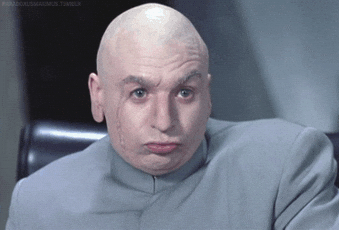 God given right? Maybe I missed the memo, but I'm certain that God never gave anyone the right to tell their President to go eff themselves. Real sure about that. In fact, the Bible tells you to obey and pray for your leaders because God put them there for your benefit. Moreover, the Bible tells you to lay down your rights rather than fight for them. It's kinda clear about that.
[1Titus 2:2 NLT] 2 Pray this way for kings and all who are in authority so that we can live peaceful and quiet lives marked by godliness and dignity.

Blue Letter Bible
[Romans 13:1, 4-5 NLT] 1 Everyone must submit to governing authorities. For all authority comes from God, and those in positions of authority have been placed there by God. … 4 The authorities are God's servants, sent for your good. But if you are doing wrong, of course you should be afraid, for they have the power to punish you. They are God's servants, sent for the very purpose of punishing those who do what is wrong. 5 So you must submit to them, not only to avoid punishment, but also to keep a clear conscience.

Blue Letter Bible
I will not bother looking up whether or not "pray this way" in the letter to Titus equals "let's go Brandon." Pretty sure that saying eff you (in coded language or not) to "God's servants, sent for your good" is also off the table. Whine all you want about how wrong their policies are and project onto them a great evil that represents an existential threat to America. Shut up. We hear that same bilge every election cycle and America is still here you dope! Besides, the Bible DID NOT tell you to assess the relative merit of policies, or to fight for your rights. Nothing in the Bible about that, so stop it. Now!
The Christian thing to say on that call with POTUS was "God bless you President Biden, though I disagree with your policies, I am praying for you and Jill. The Lord bless you. I am bothered by the crassness of that 'let's go Brandon' thing and I hope that you and the First Lady are more blessed than bothered when it comes to these unfortunate expressions of hate."
[Matthew 5:44 NET] 44 But I say to you, love your enemy and pray for those who persecute you,

[Romans 12:14 NET] 14 Bless those who persecute you, bless and do not curse.

[Micah 6:8 NET] 8 He has told you, O man, what is good, and what the LORD really wants from you: He wants you to promote justice, to be faithful, and to live obediently before your God.

A 1-2-3 death punch to the heart of Christian Nationalism